Dim Sum Brunch is a Thing, Guys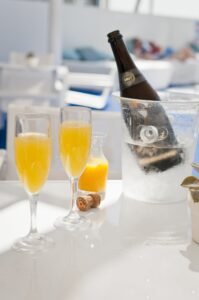 Is Brunch Culture an International Thing?
Brunch culture is strong in the United States. For many 20-somethings, brunch is a rite of passage on the journey to "adulthood". (See those air quotes? They weren't an accident.) For others, it is the rock solid excuse you need to get the booze train in motion in the AM. Long story short? We're a little brunch crazy.
Behold: Dim Sum Brunch
But is brunch here the same as brunch everywhere? Sit down. Are you sitting? Dim sum brunch is a thing. You still there? Breathe. Let's walk through this. Dim Sum is a staple of Chinese (specifically Cantonese) cuisine. The meal is comprised of many small plates or baskets of food (which is typically steamed). The offerings are often some form of dumpling or roll. Preparation for a complete dim sum brunch may start days ahead of time. Fillings are prepared in bulk with dough being made the day of.
Don't Expect Mimosas
At this point, you may be asking, "but where's the booze?" Well, good news / bad news. Bad news is there's formally no booze. Dim sum is often served with yum cha, a traditional tea service. Good news? They've got to have a couple of mimosas back there somewhere if you ask nicely.
Come Brunch With Us!
So get out there? Explore the world and shake things up with a dim sum brunch. For a good old-fashioned American brunch, look no further than Chicago Waffles. We're open Monday through Friday from 7:00 AM to 3:00 PM and on weekends from 7:00 AM to 4:00 PM. Stop by today!