How Did Belgian Waffles Come To Be?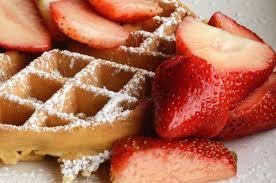 We've all heard of the Belgian waffle. Actually, if you haven't heard of a Belgian waffle by now, we need you in here stat – you've got lost time to make up for.
The Belgian waffle debuted in 1958 in Brussels, Belgium at a world fair. A Belgian named Walter Cleyman first introduced the waffle to the US in 1962 at an exposition in Seattle. This was one of the first known appearances of whipped cream and strawberries on the waffle. Widespread popularity began to pick up after the Belgian waffle was featured in the New York World's Fair. Interestingly enough, pineapple was the go-to backup once the strawberry supply ran dry.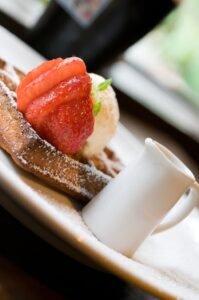 At this point, waffle irons were in full use. Belgian waffles were popping up on menus across the country, from Washington to California. The name "Belgian waffles" developed over time. They were originally called "Brussels waffles". At the time, "Brussels" was not widely associated with Belgium. The name then morphed into "Bel-Gem waffles" and later into "Belgian".
It's not hard to believe – Belgian waffles sold like hotcakes (or more specifically, like waffles). Stop into Chicago Waffles today for the perfect Belgian Waffle!